Welcome to RVimana (Our Vimana) with Maria & Erich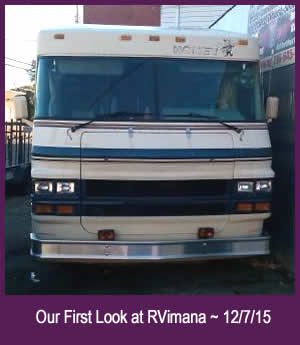 This was one of the photos that I saw of this RV, and said "we need to look at this one ASAP". Only two other pics – one of the front passenger half outside and one of the rear passenger half outside. Three was enough.
The right RV! Four years later, RV Shows later, pouring over countless Craig's List ads, AutoTrader ads, eBay ads, local paper advertisements, RV e-zines…..it's been a long road.
Let's re-phrase that. The road has just begun. Less than 40 miles away, should have named her 'Needle', as this one was that proverbial "needle in a haystack" that we'd been looking four long years for. Our new-to-us travel companion is a 1988 Honey 24′ Class A named RVimana.
A Vimana (in the ancient sanskrit language) is a mythical flying palace that transported its inhabitants to other worlds. RVimana is our new palace on wheels that will take us and many of our friends to countless fascinating places and other destinations while creating special memories.
We'll keep you updated on where we've been and the upgrades we make to Our Vimana, or "the bus".
Stay Tuned and Travel Safely!
Latest Adventures

…
March 18th – Rossford, Ohio

Stretched her legs a little farther today – 142 miles to Rossford, Ohio, where EEE will be bowling USBC States April 9th & 10th. Checked out Interstate Lanes and stopped at Bass Pro Shops to spend a gift card EEE got for Christmas on some fishing stuff. Was happy to see a Camping World right next door -I know where we will be staying April 9th!
It was also Kaycee's first time being left in her travel crate while we made several short stops to eat, visit family and shop. We would highly recommend this kind of "training trip" for your dog – you will be able to see how they react to being left alone and combat any barking or stress issues prior to venturing out on a longer trip.
I found that having her restrained by leash to the cockpit of the RV was more comfortable for her than traveling in her crate. I secured it to my chair. She has @ 5 foot radius to move about in, but will not become a projectile upon sudden stops. She can't reach under the driver's feet, but can curl up under mine in the passenger area, or sit on my lap and look out the window, which she seems to enjoy. She just barely reached the bench, where she stretched out and slept for much of the way home.
Spring 2016 Wash!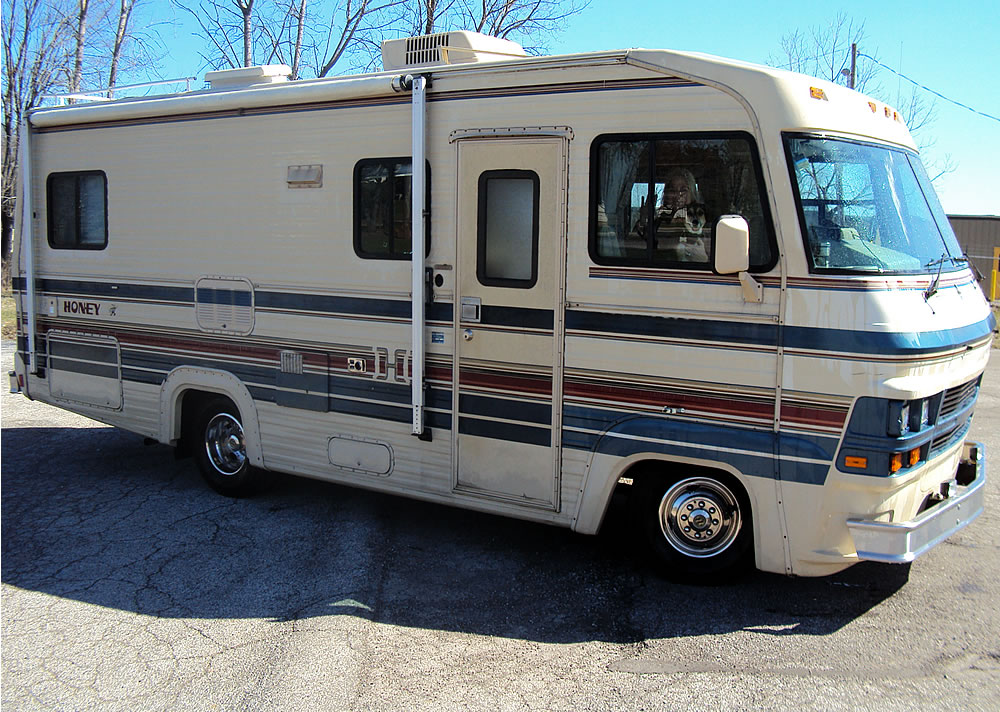 3/17 – Took a trip out to Interstate Lanes in Toledo, our first 'long' trip! But not before we took it to a self-serve wash to hose her off. Quite a gem, our Honey!


---

Interstate Lanes are wood lanes (old school neat). It's quite a roomy looking place because everything is on one level. Bowling the Ohio State Championships with the Akron Lanes team "Just the Tip" on April 9-10. Should be cool!
Really Cool Stuff
I heard this on Sunday morning, May 1, in John Bryan State Park in beautiful Ohio. Pretty catchy tune…
Recent Upgrades
3/15 – When checking the tires, found one of the braided lines to the rear duals leaking. All good, just need to replace that line – because it is pretty handy to have both valves right out front like that.


---

2/2 – Replaced fog lamps with H3 clear driving lights. Only $18.99 on eBay. I was never a fan of the amber lens fog light. It's simple…EZE likes to SEE.


---

Replaced dash screws with stainless washers and stainless screws with button caps. Pretty classy looking for about $8 bucks or so.


---

Installed the Cobra CB that came with the bus. For instant communication and road updates, there's no question…get a CB radio.


---

Mr. Dean included several packages of stainless screws that he was using to replace the rusted screws along the outside. Most of the right side is done and rear corners. Need a couple more screws – but they'll never be rusted again.